Green Clay Superfood Hair Mask with Raw Honey, Aloe and Apple Cider Vinegar
Regular price

Sale price

$12.00
An essential part of my daughter's and my hair washing routine, the Green Clay Superfood Hair Mask effectively detoxes and gently cleanses the scalp of residue and dandruff. It is step one of the cleansing process, a "pre-shampoo". Crafted with Ayurvedic herbs, Aloe juice and Apple Cider vinegar, it acts as a clarifier and natural balancer, producing truly healthy hair.
Key Nutrients and benefits

Bentonite Clay: Detoxifies and Clarifies

Apple Cider Vinegar: Detoxifies and restores proper pH

Aloe juice: Promotes growth, softness and proper pH

Amla & Fenugreek: Ayuvedic herbs for thickening hair and stimulating growth.

Honey: Moisturizes & Antibacterial

Rosemary: Renowned herbal remedy for hair growth and health.
Ritual

Wet hair thoroughly. Apply clay treatment to scalp and roots. Massage well into scalp.

Next, smooth clay from roots to ends of hair.

Rinse well with warm water.

Repeat process if hair/scalp has a lot of buildup.

Follow with our Aloe Apothecary Cream Cleanser.

Keep product out of eyes. Discontinue use if irritation occurs.  
Ingredients

Aloe juice, rosemary hydrosol, Bentonite clay, raw honey, organic apple cider vinegar, french white clay, amla and fenugreek, optiphen (paraben-free preservative), rosemary and peppermint essential oils.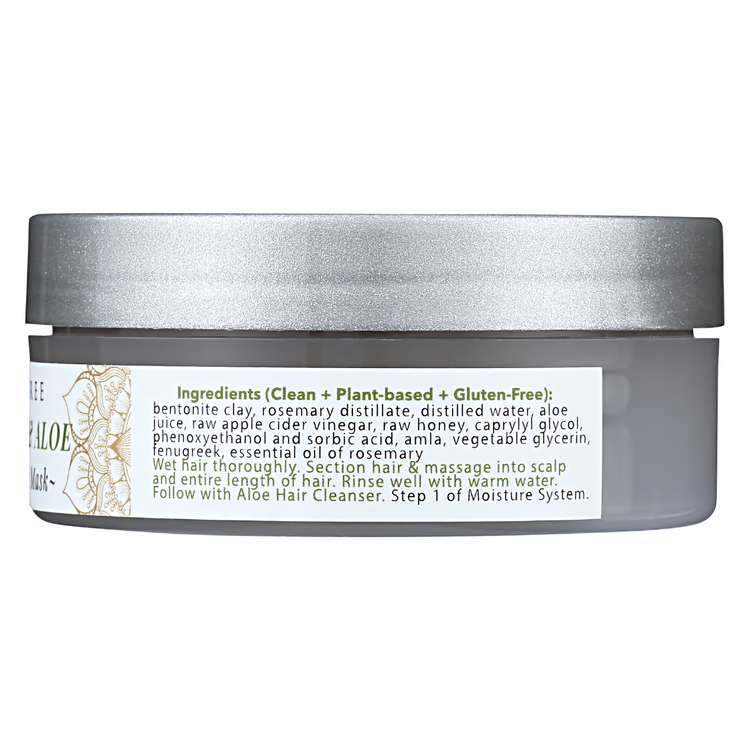 Why the Green Clay & Aloe Hair Mask?
100% Clean & Nutrient-Rich
FREE of Gluten / Sulfates / Silicone. Detox & moisturize hair with bentonite clay, aloe, apple cider vinegar and honey.
Multi-tasking & Inclusive
Detox, Moisturize & Feed follicles! Plus, improve hair growth and retention. For heads & beards.
Consciously Crafted
Cleanse thirsty strands without stripping! Handmade with love, healing ingredients and intent.
Cruelty-Free
Tested on humans. Never animals.
Green Clay + Aloe Superfood Hair Mask FAQs
Will this really detox my hair?

Clay is an essential superfood for detoxifying skin and hair. Combined with Apple Cider Vinegar and honey, our Mask is a clarifying treatment that won't strip your hair dry. It gently removes scalp buildup so your follicles are happy and healthy.
Why is a clay treatment necessary?

Do you have dandruff? Or maybe the occassional residue on your scalp? Clay treatments work to remove buildup and pollutants from your scalp and hair. This residue may be blocking your follicles and contributing to scalp illnesses, which keep your hair from growing.

Our Mask is a multi-tasker--it's a detox, cleanser, detangler and follicle food. Here's to happy hair growth!!
Will this help my dandruff?

Many of our clients use this for dandruff. Your scalp and follicles will thank you!
Can I use this on my locs / beard?

Beards:

We definitely recommend this clay mask for beards!

Locs:

We do not recommend it for locs. It's a richer treatment and not watery enough for many of our loc clients' needs.
Do I use on wet or dry hair?

We recommend wetting hair first, before applying.

The Mask can also be used on beards.
About Charmaine

In the Media