Harmonious Temple Mint Bath Blend
Regular price

Sale price

$20.00
A blessing for the body, it is of no surprise that this soak is a best seller. Our Harmonious Temple Mint Bath Soak will be an essential part of your medicine cabinet. Filled with a healing combination of salts, herbs and essential oils, it soothes and transforms.
Key Nutrients & Benefits

Physically, peppermint and eucalyptus oils cool, soothe and clear impurities. They are particularly beneficial in cases of muscular aches and soreness, arthritis, colds and sinus troubles.

Energetically, these oils help to dispel emotional energy blockages, depression, fatigue and stress.

A signature combination of relaxing oils has also been added to further induce peace and harmony.
Ritual

For an exquisite bath, add a handful (approximately half a cup) to a full bath and relax.

For footbath, add 1-2 ounces to warm water.

These particular essential oils are not recommended for pregnant or nursing women or for individuals with histories of epilepsy or hypertension. 
Ingredients

mineral salts (magnesium sulfate, solar salt and dendritic salt), essential oils of peppermint, eucalyptus and spearmint, with a relaxing blend of other essential oils, organic peppermint and spearmint leaves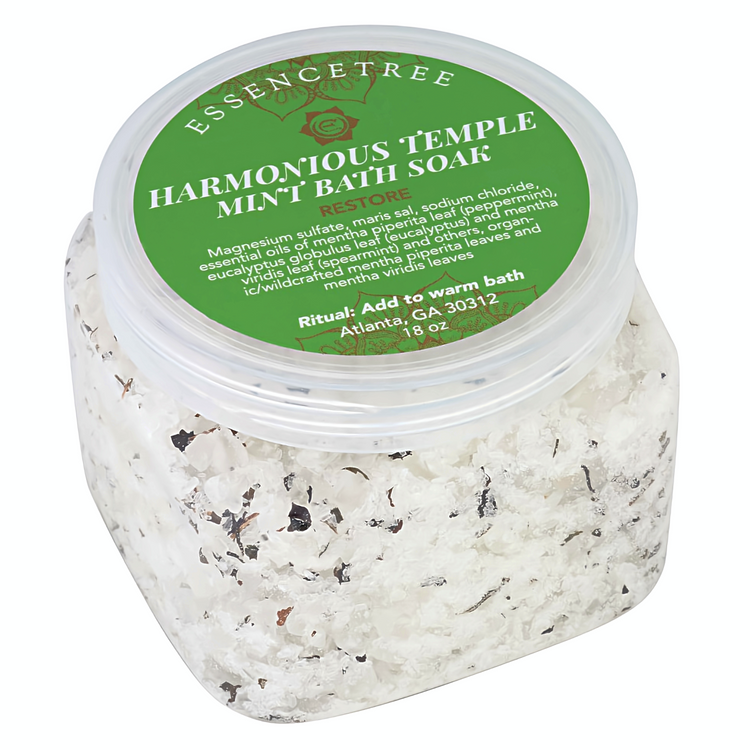 Why the Harmonious Temple Mint Bath Salt?
Vegan & Nutrient-Rich
Gluten-Free & Oil-Free. Banish sore, weary bones with spa salts, fragrant essences, flowers & herbs.
Multi-tasking & Inclusive
Restore energy, fight seasonal colds and care for your body & mind. Loved by All.
Consciously Crafted
Fight fatigue & welcome your rebirth. Handmade with love, healing ingredients and intent.
Cruelty-Free
Tested on humans. Never animals.
Harmonious Temple Mint Soak FAQs
Will this soothe my sore muscles?

Yes. The Harmonious Temple Mint Soak contains essences that soothe soreness, such as mint and epsom salts.
Does this help during cold and flu season?

Yes. This blend contains peppermint and eucalyptus. These oils help with stuffy noses and congestion.
How much should I use?

Bath tubs: Use 1/4 cup to 1/2 cup of bath salt. Foot baths: Use 1-2 Tablespoons.
I am pregnant / have high blood pressure. Can I use this?

Our bath salts contain epsom salt and potent essences. If you have high blood pressure, please check with your health professional. If you are pregnant, consider using as a foot bath.
About Charmaine

In the Media