Harmonious Temple Organic Mint Sugar Lip, Face and Body Scrub
Regular price

Sale price

$10.00
Bring face, mind and spirit into alignment with this fresh, sweet treat of mint and sugar.

Key Nutrients & Benefits

This beautiful scrub features organic sugar, which naturally contains skin-toning glycolic acid.

Peppermint oil, an antiseptic that is great for acne, is cleansing and cooling.

Purifying Eucalyptus oil assists with congestion.

A touch of Vanilla oil lends sweetness and tranquility to this blend.

Vegetable glycerin, plant oils and Vitamin E bathe skin in nutrients and moisture.

Ritual

This scrub is for all of you: face, body, feet and hands.

Start by cleansing face. Massage gently into wet skin and rinse. (Scrub will be firm upon initial contact. I usually do it in the shower where the coconut oils softens from the warm temperatures).

For body exfoliation, begin at the extremities and massage towards the heart. Avoid sensitive, damaged skin areas.

For bath, scoop a handful into warm water for skin toning and softening benefits.

If irritation occurs, discontinue use.
Ingredients

granulated fructose, vegetable glycerin, organic coconut oil, dendritic salt, organic castile soap, peppermint, eucalyptus and vanilla essential oils, vitamin e & rosemary oleoresin extract.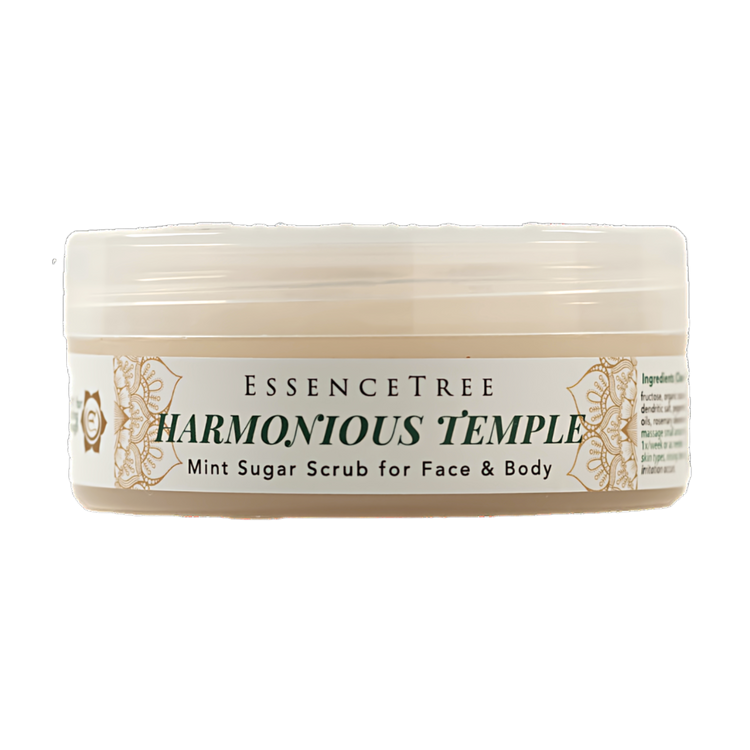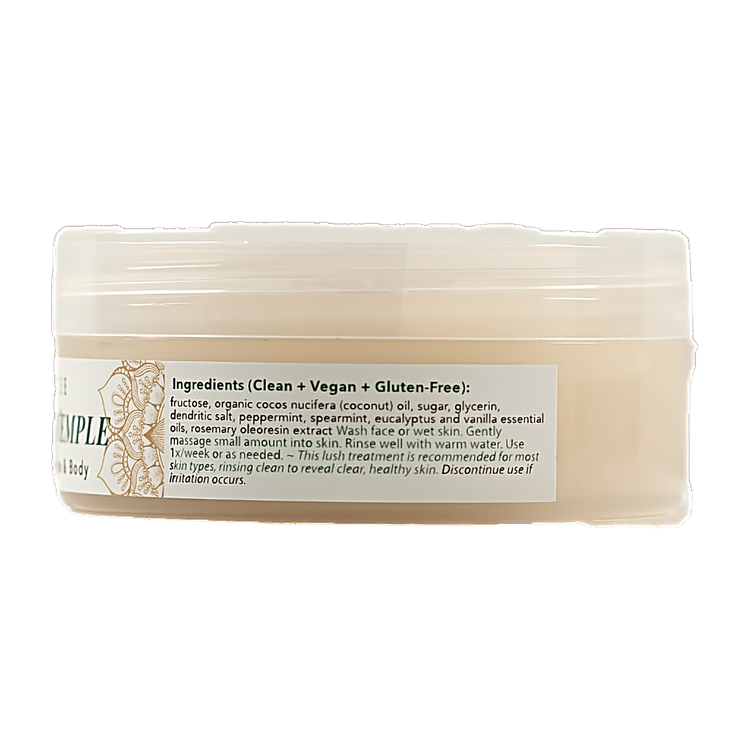 Why the Harmonious Temple Mint Scrub?
Vegan & Nutrient-Rich
Gluten-Free. Revitalize and tone skin with sugar, mint, plant-based oils, antioxidants & herbs.
Consciously Crafted
Tones pores & refreshes spirit. Handmade with love, healing ingredients and intent.
Multi-tasking & Inclusive
Gentle, yet invigorating exfoliant for face & body. Loved by All.
Cruelty-Free
Tested on humans. Never animals.
Harmonious Temple Scrub FAQs
Will this really clear my skin?

If you have dull, dry or flaky skin, you probable need to exfoliate. Exfoliation is a key part of helping your skin to remove its older layers and allow the fresh new cells to come to the surface. This will help your skin to absorb moisture better, to reduce dark spots and blemishes, etc.
I have acne. Can I use this?

For normal skin with occasional, minor breakouts, we recommend this scrub. For persistent and/or severe acne, we do not recommend granular scrubs. Use our Turmeric Glow Mask and other facial products instead.
Is this recommended for sensitive skin?

If you can use granular scrubs, then yes. Apply to wet skin with a gentle massage. It's scrubby, but not severe. If unsure, I recommend buying our travel size first. I love to take this scrub in the shower and apply a pea-sized amount to my wet face. The steam softens the scrub beautifully.
Can this be used on my body?

ABSOLUTELY! This is a beautiful face and body scrub. Use in the shower or in the bath tub for a luxurious treat.
About Charmaine

In the Media