Healthy Hair Tonic for Moisture and Growth - Natural Hair Oil
Regular price

Sale price

$10.00
This nutrient-rich hair oil is formulated for all hair types. It is a core part of all of EssenceTree's hair care collections. This best-seller contains 30 essential oils as well as argan and castor oils which nourish and protect all curly and dry hair types.

It's extremely effective in nourishing your hair and scalp restoration and providing hydration at the cellular level while preventing breakage. This unique blend of botanicals, antioxidants, plant oils and organic herbs promote natural hair growth while offering lasting moisture, shine and protection for natural hair.

No Paraffins. No Parabens. No Sulfates. No Mineral Oil.
Key Nutrients & Benefits

Plant oils such as olive, avocado and argan offer supreme moisture, shine and protection.

Essential oils such as lavender, rosemary, cedarwood and ylang ylang help to reduce hair thinning and promote hair growth.

Frankincense, sandalwood and palma rosa essential oils nourish and moisturize.

Our specialty blend of organic herbs feed follicles and condition hair, improving manageability and reducing breakage and split ends. 
Ritual

For optimal results, treat scalp and hair to a massage with Healthy Hair Tonic twice daily. Amount used may range from 1 drop up to 1/4 teaspoon, depending on hair length and texture. Brush through hair.

To deep condition dry/damaged hair: Mix Healthy Hair Tonic with a natural conditioner (up to 1 Tablespoon). Apply to freshly shampooed hair and cover with a shower cap for at least 20 minutes. Rinse and enjoy beautiful results.

For fine hair or to use as a hot oil treatment, apply with heat before shampooing.
Ingredients

virgin olive oil, sunflower, avocado, castor, jojoba and argan oils, organic herbs of nettle, sage, horsetail, red clover, burdock, chamomile, bay, lavender, spearmint, saw palmetto, calendula, moringa and black tea, essential oils of lavender, rosemary, grapefruit, frankincense, rose, bergamot, sandalwood, cedarwood, ylang ylang, tea tree, palma rosa, rosewood, sweet orange and vanilla, evening primrose oil, Vitamin E, rosemary oleoresin extract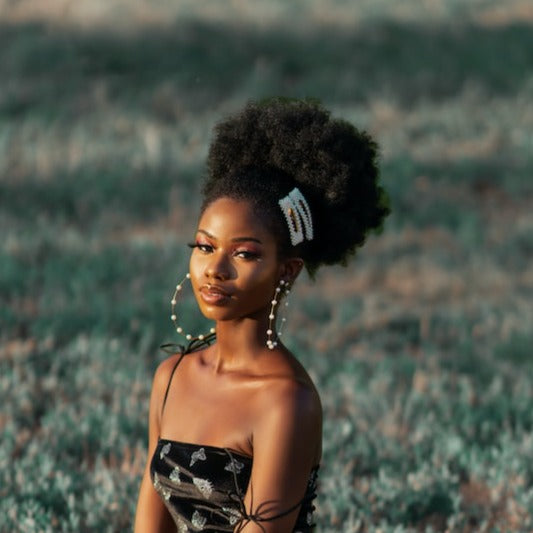 Customer Reviews





"An essential tool in my natural hair transition!"

J. Anderson
Girrl. This is the ONLY hair oil i use. I love the quality ingredients. Feels like homemade.

Tomika B.
"Thank you for all of your great products to take care of my hair."

C. Horton
"Your Healthy Hair Tonic is the TRUTH!! My hair has grown past my bra strap!"

Airean
"Shannon McCollum brought home the Osun Oil and Hair Tonic and Immediately fell in love. Purchasing more and telling everyone I know how great your products are!"

A. Pearson
"Great product and it's the 1st product that truly keeps my hair moisturized. Thank you!"

J. Patterson
Healthy Hair Tonic FAQs
Will this really grow my hair?

The Healthy Hair Tonic will definitely support hair growth and retention. Note: EssenceTree's products are drug-free and hair health is impacted by many factors. (Please watch our videos on hair growth.) With that said, this best-selling master blend contains a research-based, nutrient-packed blend of follicle foods, growth stimulants and moisturizers. For severe thinning and balding, please also try our Scalp Therapy Follicle Food and Concentrated Growth Aid.
I have thin/oily hair. Will this weigh it down?

This is a medium-weight oil blend that is designed to absorb well while also protecting hair and giving it shine. For hair growth, you'll only need 2-3 drops to massage into your scalp. For fine hair, you can apply as a pre-shampoo oil treatment. For thicker textures, you may apply to clean hair and leave the product in. Massage any remaining oil throughout your hair. If unsure, please try our travel sizes first.
How long does it take to see results?

We recommend allowing 4-12 weeks of consistent use before expecting results. Hair growth is impacted by many factors. (Please watch our videos on hair growth.) EssenceTree's products are drug free and we do not claim to cure any hair/scalp illnesses. With that said, our ingredients are backed by federal research on hair growth.

This product has thousands of satisfied customers.
Will this help my dandruff?

Many of our clients use this for dandruff. For dry scalp and normal flakiness, we recommend the Healthy Hair Tonic. For more severe scalp issues (itchiness and larger flakes), we recommend our Scalp Therapy Follicle Food and Concentrated Growth Aid. If unsure, please try travel sizes of both. Your follicles will thank you!
What Makes the Healthy Hair Tonic Formula Unique?
Vegan & Nutrient-Rich
Paraben & Silicone-free. Live the long hair life with 30+ nutrients for scalp and hair.
Multi-tasking & Inclusive
Our masterblend for hair growth, retention, moisture, scalp health and detangling! Loved by All.
Consciously Crafted
Grow hair naturally. Handmade with love, healing ingredients and intent.
Cruelty-Free
All feedback and testing is done with customers, never animals.