Inner Peace Oil
Regular price

Sale price

$10.00
You will love this tranquil, exquisite therapy. It is crafted with Bulgarian Lavender and Roman Chamomile essential oils. This oil nourishes and relieves almost any skin condition, while providing your mind with the peace it deserves.
Key Nutrients & Benefits

A beautiful, calming experience, this lavender infused oil inspires harmony in skin and mind.

Exquisite Bulgarian Lavender and Roman Chamomile oils set in a base of olive and sunflower oils nourish and relieve almost any skin condition, including dryness and minor irritations. Wonderfully, it also balances the mind, drawing us closer to our spiritual paths. 
Ritual

Use this oil to pamper your entire self.

Apply to moist face and body for skin health.

Can also be used for hair moisture and growth.

As a bath oil, add to warm bath for a calming experience.

Massage into tense muscles for relaxation.

Use as a meditative anointing oil to commune with the Divine. 
Ingredients

virgin olive and sunflower oils, lavender, chamomile, cedarwood and peppermint essential oils, evening primrose oil, organic lavender buds, helichrysum and cornflowers, Vitamin E, rosemary oleoresin extract.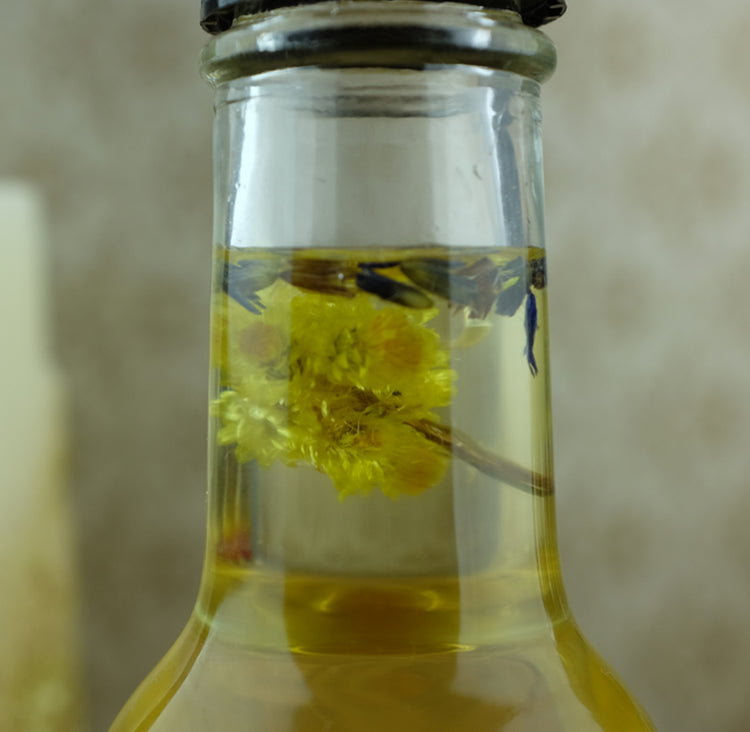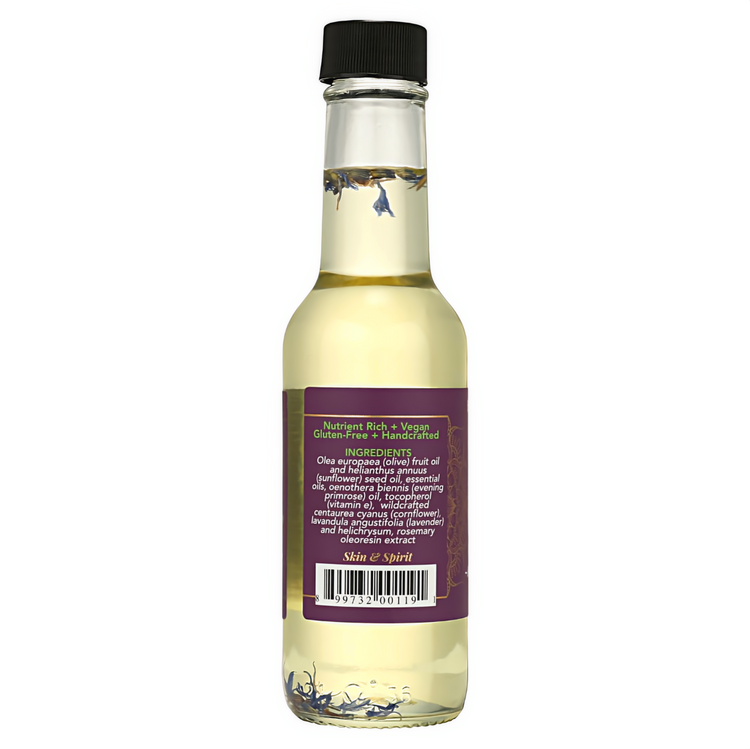 Why the Inner Peace Oil?
Vegan & Nutrient-Rich
Gluten-Free. Achieve your Zen with plant-based oils, antioxidants & herbs.
Consciously Crafted
Inner Peace is infused with the energy of serenity. Use it to smell & feel harmonious. Handmade.
Multi-tasking & Inclusive
Use for hair, skin, bath and massage. Loved by all.
Cruelty-Free
Tested on humans. Never animals.
Testimonials
This oil is a customer favorite at Whole Foods Sandy Springs!

Demetra
The Inner Peace is really helping my psoriasis! I'm hooked.

Olotunji
Your massage oil is amazing!

D. Paula
Return customer. Love your oils for whole body use including hair!!!

J. Chapman
I'm 14 and I love using this oil for my skin. It helps my face look good and with the toner, it keeps the breakouts away.

Maya W.
You are all awesome. Thank you for all you do to bring love and loveliness to our world.

H. Davis
Inner Peace Oil FAQs
Can I use this on my face?

Yes. This blend contains essential oils that are good for skincare.
Does this help with stress?

Essential oils like lavender and chamomile are known to be very soothing. This blend calms alot of our customers.
Will this grow my hair?

Of all of our Whole Body Oils, the Inner Peace contains essential oils that support hair growth. It is also made with nutrients that moisturize and condition, which will help with length retention.
About Charmaine

In the Media