Oshun Goddess Bath Blend
Regular price

Sale price

$20.00
EssenceTree's best selling bath blend! In celebration of our own inner divinity, this exquisite soak evokes all things sweet and beautiful. It features mineral salts, organic roses, chamomile flowers, cinnamon and oat/olive leaves.
Key Nutrients & Benefits

When life gets unkind, you will thank me for this soak (But, thankfully, you won't be able to wait until then to use it!).

Essential oil of sweet orange improves skin texture and brightens our energy.

Vanilla oil harmonizes and soothes.

Mineral salts detoxify and relax.

Aromatic cinnamon, rosebuds and chamomile flowers further enhance the experience of this unforgettable treatment. 
Ritual

Add a handful (approximately halp a cup) to warm bath & surrender to your inner God/dess.

Reduce amount by half for a luxurious footbath.

Please filter herbs when emptying tub. 

These particular essential oils may not be recommended for pregnant or nursing women.
Ingredients

mineral salts (magnesium sulfate, solar salt and dendritic salt), organic roses, chamomile flowers, oat/olive leaves, fragrance, sweet orange and vanilla essential oils.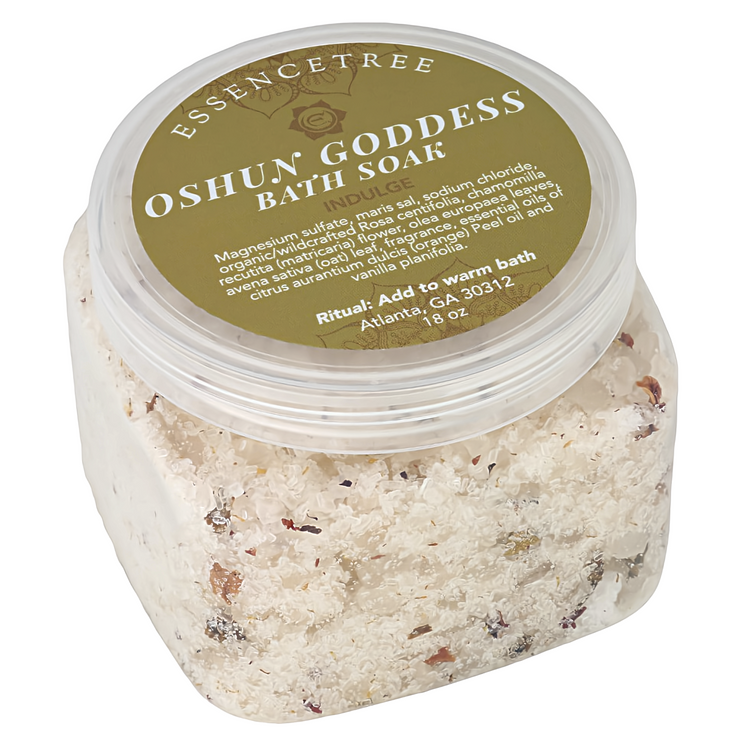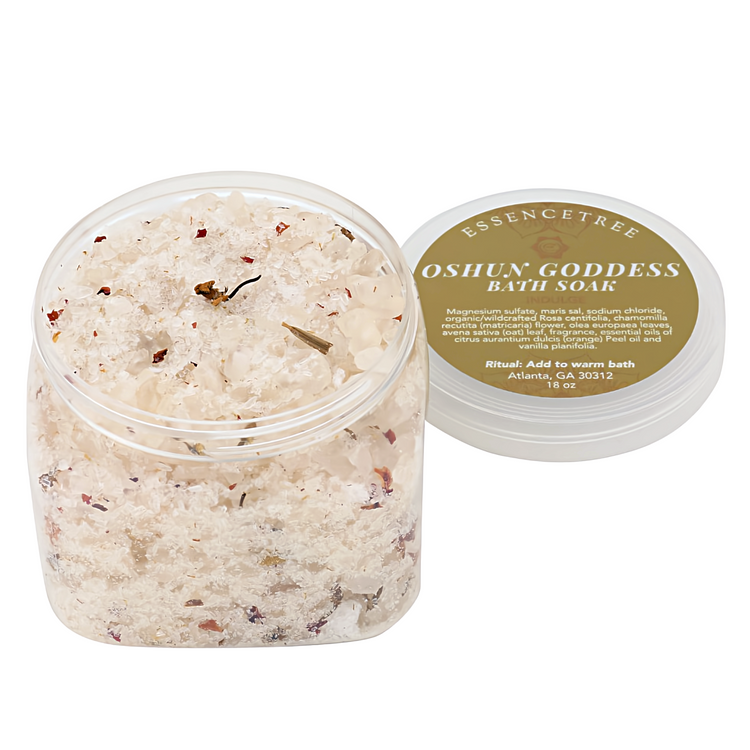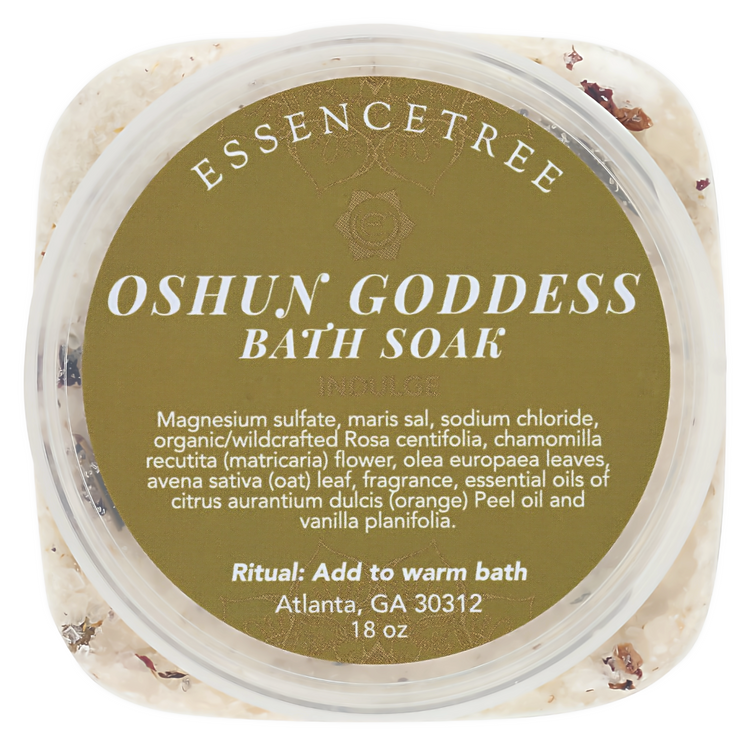 Why the Oshun Goddess Bath Blend?
Vegan & Nutrient-Rich
Gluten-Free & Oil-Free. Achieve relaxation with spa salts, fragrant essences, flowers & herbs.
Multi-tasking & Inclusive
Care for your body & mind, soften skin and unwind. Loved by All.
Consciously Crafted
Indulge in vital self-care & strengthen your connection to the Divine Feminine. Handmade with love and healing ingredients.
Cruelty-Free
Tested on humans. Never animals.
Oshun Bath Salt FAQs
Is there magic in this jar?

Yes, the intent is pure magic. Other than that, the Oshun Goddess Soak is made with a blend of salts, flowers, herbs and essences. Oil-free
How much should I use?

Bath tub: Use 1/4 cup to 1/2 cup of bath salt. Foot bath: Use 1-2 Tablespoons
Why should I take baths?

In addition to being deeply cleansing, baths are important forms of detoxification, relaxation and spiritual communing.
I am pregnant / have high blood pressure. Can I use?

Our bath salts contain epsom salt and potent essences. If you have high blood pressure, please check with your health professional. If you are pregnant, we do not recommend using this blend (due to cinnamon).
About Charmaine

In the Media