Oshun :: Orange Rose Goddess Superfood Soap *Anti-aging & Self-care*
Regular price

Sale price

$15.00
Anti-aging, Complexion Brightener + Self-care Essential : For your entire body! It is difficult to keep this one in stock. Made with precious rose and orange essential oils, it's a creamy, divine experience that trumps all others. Both rose and orange oils are great for the skin, so this bar is a wonderful face and body bar. These oils will also lift your spirit and nurture your heart chakra.
Decorated with gold mica for a truly luxurious experience
Plant-based + Vegan + Gluten free + NO synthetics + NO detergents
**Note: Soaps weigh approximately 6 ounces 
Key Nutrients & Benefits

Associated Rituals: Face care, Mature skin, Dull, splotchy skin, the Divine Face ritual and Oshun Goddess rituals

Our soaps are handcrafted with superfoods and essential oils such as organic turmeric, organic shea and cocoa butters, organic babassu and coconut oils, unrefined hemp oil and sustainable palm oil.

Plant-based + Vegan + Gluten free + NO synthetics + NO detergents
Ritual

All Soaps are safe for use on your face and entire body.

** A complimentary biodegradable soap saver is included with orders of 2 or more soaps (1 soap saver per order)

Care: Allow soaps to dry on a soap saver or shower rack between use. They should not sit in water.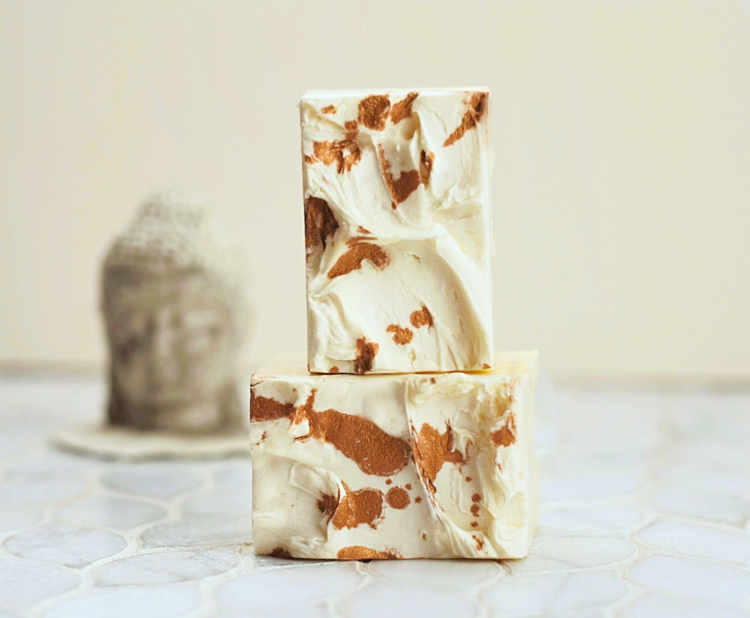 Why the Oshun Orange Rose Goddess Soap?
Vegan & Nutrient-Rich
Gluten-Free. Achieve a younger, more beautiful complexion with rose oil, plant-based oils and antioxidants.
Consciously Crafted
Enhance your complexion naturally. And elevate your self-love rituals. Handmade with love & healing ingredients.
Multi-tasking & Inclusive
Create unforgettable skin. Face & Body. Great for sensitive skin.
Cruelty-Free
Tested on humans. Never animals.
Testimonials
Love the scent and feel of this soap!!!

J. Chapman
I use this everyday on my face. I'm in my 60's and it keeps my complexion so beautiful.

H. Young
My favorite smelling EssenceTree soap! Has my whole bedroom smelling good. Feels good on my sensitive skin, too.

C. Renee
I love this soap for my self-care needs. Smells soo good, creamy lather and moisturizing to my skin. Kinda like a superior quality Dove bar feel.

T.T.
From what I've been told by the owner, all of the soaps brighten the skin. This one is my favorite because my skin is dry and I'm in my mid 40's. The beauty of the bar, plus the scent of the rose oils are everything. A premium luxury soap!!

C.M.T.
Oshun :: Orange Rose Goddess FAQs
Will this help me to look younger?

Yes. This divine soap contains moisturizing plant oils and pure rose and orange essential oils. These extracts are youth-enhancing, diminishing the appearance of wrinkles, age spots, etc.
Can I use this on my entire body?

Yes. Our soaps are carefully made to use on your face, body and bits ;-)
How long does it take to see results?

Our products are drug-free and do not claim to cure a skin disease. That said, you will instantly notice a brighter complexion when using our soaps. For stubborn spots, allow up to 8 weeks and use in conjunction with our other youth enhancing facial products (Dream Skin Cream, Turmeric Glow Mask, etc.)
About Charmaine

In the Media