Paradise Mango Pineapple Body Scrub
Regular price

Sale price

$10.00
Imagine lying on a Caribbean beach, air lush with fragrances of tropical fruits. Our Paradise Scrub offers this experience, complete with the gift of exfoliated, silky-smooth skin.
Key Nutrients & Benefits

This fragrant scrub uses sea salt, sugar, organic coconut oils and botanicals to reveal a sweeter, softer you.
Ritual

Scrub should be applied to wet skin.

Beginning at the extremities, massage in a circular motion towards heart. Rinse well.

Avoid sensitive, damaged skin areas.

Use with caution; scrub may make tub slippery.

The benefits of this scrub is enhanced when followed by our Mango Pineapple Butter. 
Ingredients

specialty salt blend, sugar, organic coconut and sunflower oils, fragrance, vegetable glycerin, optiphen (paraben-free preservative), rosemary oleoresin extract, annatto seed (natural color), mica, amaranth flowers.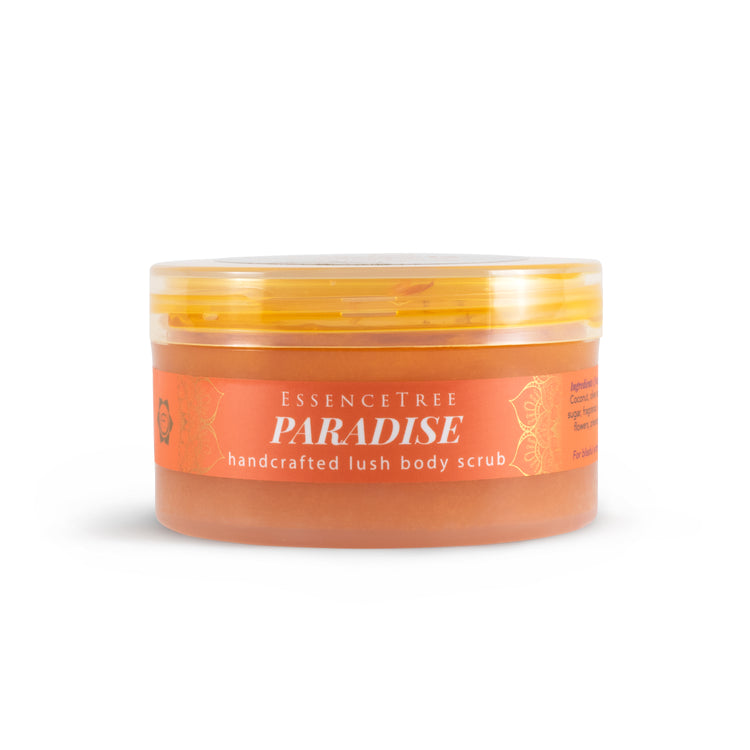 Why the Paradise Mango Pineapple Scrub?
Vegan & Nutrient-Rich
Gluten-Free. Achieve blissful, glowing skin with exfoliants, plant-based oils, antioxidants & herbs.
Multi-tasking & Inclusive
Use this superfood body scrub to experience your island fantasy. Smell & Feel transformed.
Consciously Crafted
Softens skin & brings joy to spirit. Handmade with love, healing ingredients and intent.
Cruelty-Free
Tested on humans. Never animals.
Testimonials
My friend had this and I fell in love with the smell! I just couldn't wait to get some!

J. Nash
I bought this from Whole Foods. This is sooo addictive! My skin looks and smells sooo good.

Nina D.
After I use the Paradise Mango Pineapple products, hubby can not keeps his arms off of me ;-)

S. Rush
This scrub is sooo perfect! A must for your skin and it looks and smells so beautiful.

B. Davidson
Paradise Mango Pineapple Scrub FAQs
Why should I use scrubs?

Exfoliation is key for helping your skin to absorb moisture and look younger. In addition to the body, scrubs are great for rough hands, feet and for flaky faces.
What superfood makes this scrub orange?

Annatto gives this scrub its beautiful orange color. Your body will benefit from the antioxidant and anti-inflammatory properties of annatto.
Why does this scrub appear less oily than Bath and Body Works?

We use a coconut oil blend for our scrubs, which may give them a "drier" appearance. Trust that you will have a lush, moisturizing experience using our scrubs.
About Charmaine

In the Media