Sat Ra Divine Body Butter with Turmeric
Regular price

Sale price

$12.00
One of our first creations, Sat Ra literally means "Daughter of the Sun" and was the title given to women pharaohs of ancient Kemet (Egypt). Equally famous, this fragrant shea butter, aloe and turmeric blend is so very divine that it is no surprise that it is one of our best selling butters.
Key Nutrients & Benefits

Sat Ra is full of vitamin-rich organic shea butter and nourishing organic coconut oil for superior moisturizing.

It also contains soothing aloe juice for truly healthy skin.

Organic turmeric, the antioxidant that gives Sat Ra its yellow color, further enhances and protects.

Shea butter, richer than many of the plant butters, provides a velvety texture to skin.

Aloe vera juice, a soothing and healing antioxidant, protects and heals.

Organic coconut oil lends the perfect glow and island beauty to your body.

Once you have sampled Sat Ra, there is no leaving.
Ritual

Apply as needed for smooth, buttery soft skin.

Massage into skin thoroughly.

Allow butter to absorb before dressing.

Tip: Butters are best applied to clean, moist skin, i.e. after bathing or washing hands.

This cream was created for body and feet, but can be used sparingly on the hair
Ingredients

wildcrafted shea butter, organic coconut and olive oils, aloe juice, fragrance, turmeric, witch hazel, emulsifying wax, sodium lactate, evening primrose oil, Optiphen (paraben-free preservative), Vitamin E, rosemary oleoresin extract.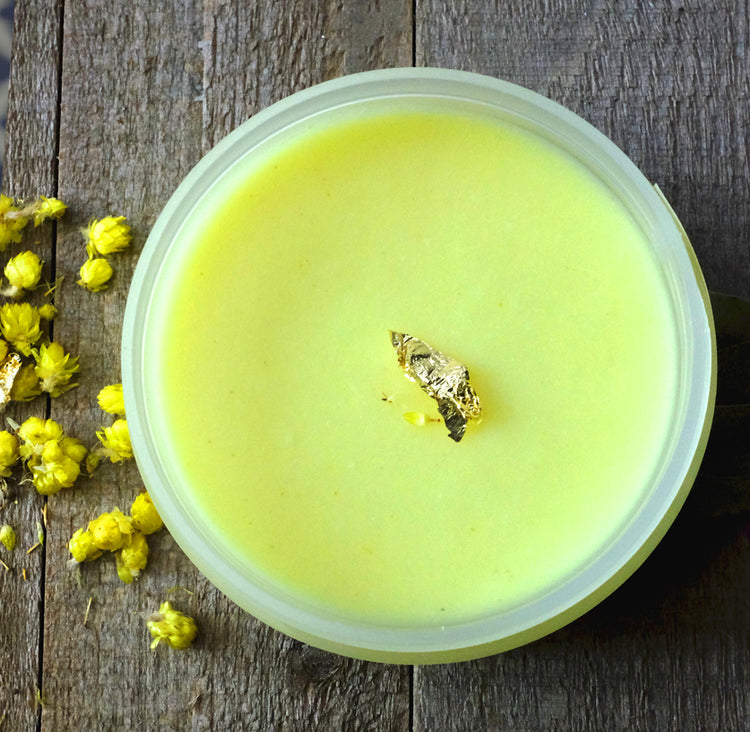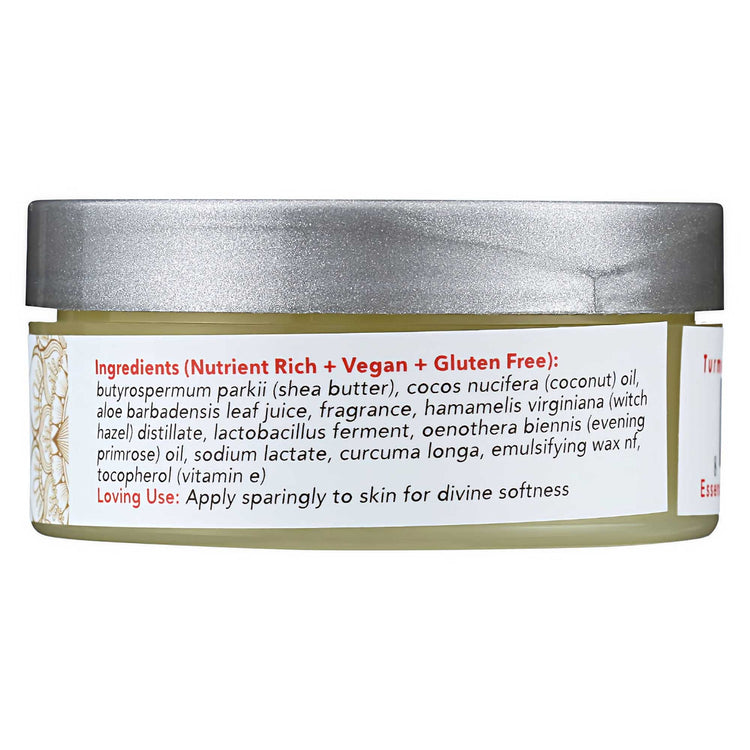 Sat Ra Body Butter FAQs
Are your butters whipped?

Not exactly. Although they are blended well for a smooth texture, they are not very airy. We love a richer texture; it's better for dry skin.
Is this for men, too?

All of our products are holistic and unisex (it just depends on your fragrance preferences). We do have men who love the clean scent of Sat Ra.
Will the turmeric stain my skin?

EssenceTree has a "nutrients-first" philosophy. We use real herbs as colorants. We've not seen skin dyed. However, please massage in this product well. When not properly massaged into skin, we've seen it color white clothing. If in doubt, use the Sat Ra Oil instead.
Does this contain fragrance oil?

Yes. The Sat Ra scent is made with a safe blend of fragrance oils. We seek pthalate-free fragrances.
Why the Sat Ra Divine Butter?
Vegan & Nutrient-Rich
Gluten-Free. Achieve glowing, buttery skin with turmeric, plant-based oils, antioxidants & shea butter.
Consciously Crafted
Handmade with love, healing ingredients and intent. Use to feel beautiful and unstoppable.
Multi-tasking & Inclusive
Supreme moisture for body. Loved by All.
Cruelty-Free
Tested on humans. Never animals.
Testimonials
I suffer from dry skin because I live in the desert of Las Vegas, and during the summer months my skin is itchy dry! I have been using this every day since I got it and oh my gosh can I tell you how beautiful my skin is now! And with the turmeric when I rub it on my shoulders my feet in the back of my neck it helps relieve my aches and pains! I absolutely love this and definitely want to try it other products of yours! Also it smells amazing

A. Gomes
I was in Atlanta shopping at Whole Foods and a lady working there suggested your line. I love the smell and the feel and now I am back for more.

M. Hillman
This is my favorite butter in the line. Sat Ra is my everything.

S. Leonard
This was my favorite but i wear a lot of white and the turmeric stained my clothes. Now I get the Sat Ra oil and the Calendula Hemp Butter.

A. Reed
About Charmaine

In the Media