Sat Ra Divine Sea Salt Scrub
Regular price

Sale price

$10.00
Sat Ra means "daughter of the sun" and symbolizes power.  Blended with golden antioxidant-rich turmeric, coconut oil and organic calendula, this treatment is absolutely divine. 
Key Nutrients & Benefits

Sea salt exfoliates to reveal beautiful glowing skin.

 Turmeric is wonderful for beautification, and hyperpigmentation.

Coconut oils moisturize, nourish and protect skin.

Follow with our unforgettable Sat Ra body butter and you will be singing our praises. 
Ritual

For shower, apply to clean, wet skin and rinse well.

For bath, scoop a handful into warm water and enjoy the softening effects.

This scrub is intended for body and feet.

Avoid bruised, sensitive areas.

Exercise caution--exfoliants may make tub slippery.
Ingredients

sea salt, magnesium sulfate, coconut and sunflower oils, fragrance, vegetable glycerin, organic turmeric, organic calendula, Optiphen (paraben-free preservative), rosemary oleoresin extract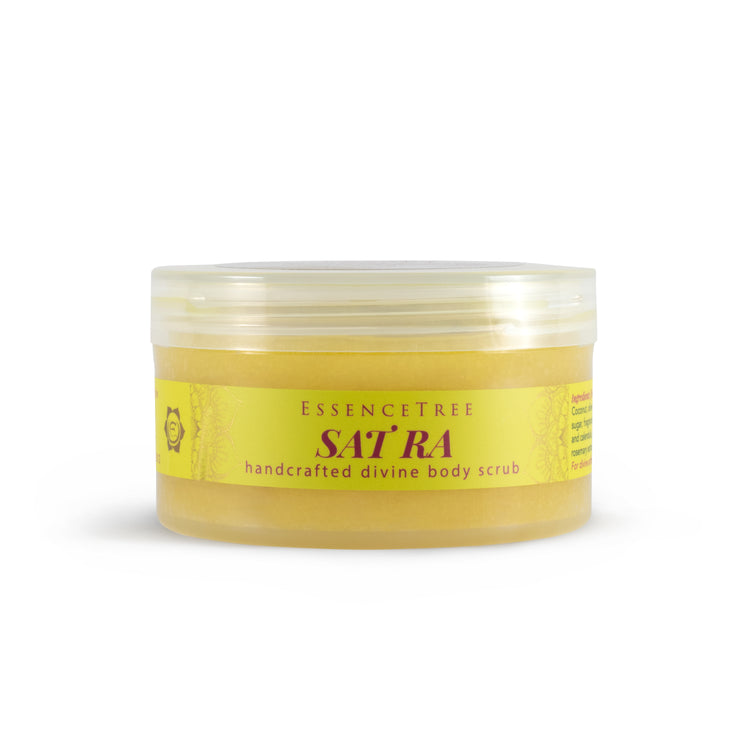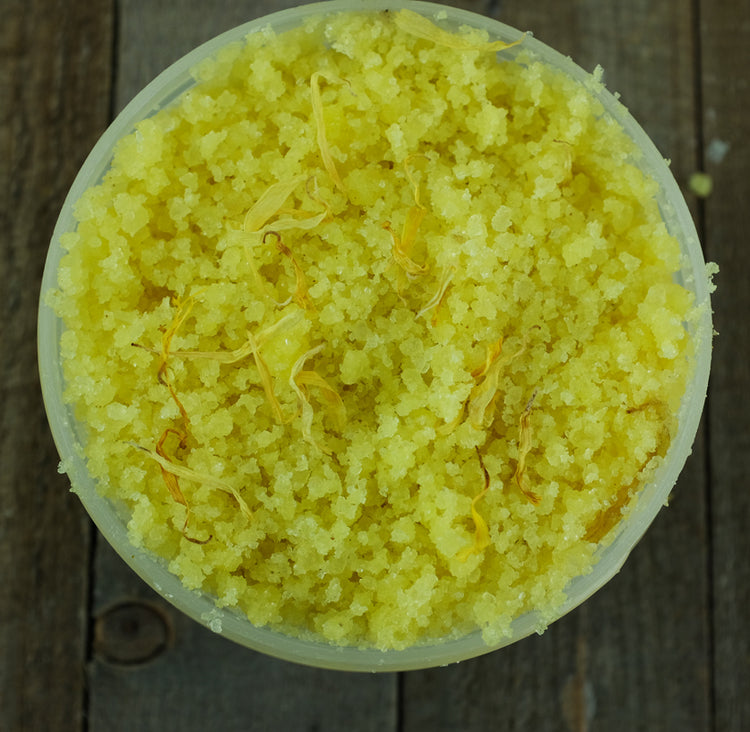 Why the Sat-Ra Divine Scrub?
Vegan & Nutrient-Rich
Gluten-Free. Achieve golden, glowing skin with turmeric, plant-based oils, antioxidants & herbs.
Consciously Crafted
Beautifies skin & empowers spirit. Handmade with love, healing ingredients and intent.
Multi-tasking & Inclusive
Smell & Feel Unstoppable with this superfood body exfoliant. Loved by All.
Cruelty-Free
Tested on humans. Never animals.
Testimonials
My daughter is a team leader at Whole foods and she told me about your products! She loves them! I am so excited about this scrub.

B. Brown
I love anything Sat-Ra. The Turmeric in this scrub makes my skin gooorgeous!

S. Leonard
I take this with me on vacations (2 oz size). It gets my skin GLOWING.

ANNA P.
My husband loves the way my skin feels after using this scrub. I had to get a subscription for the bulk size!

T. Black
Sat Ra Scrub FAQs
Why should I use scrubs?

Exfoliation is key for helping your skin to absorb moisture and look younger. In addition to the body, scrubs are great for rough hands, feet and for flaky faces.
What superfood makes this scrub yellow?

Turmeric gives this scrub its beautiful golden color. Your body will benefit from the properties of turmeric.
Why does this scrub appear less oily than Bath and Body Works?

We use a coconut oil blend for our scrubs, which may give them a "drier" appearance. Trust that you will have a lush, moisturizing experience using our scrubs.
Does this contain fragrance oil?

Yes. The Sat Ra scent is made with a safe blend of fragrance oils. We seek pthalate-free fragrances.
About Charmaine

In the Media