Scalp Therapy for Repair and Concentrated Growth
Regular price

Sale price

$12.00
This oil was specifically created to feed the scalp with vital nutrients for optimal health. It stimulates growth and helps to relieve flakiness, irritation, dandruff, braid bumps and itchiness.
Key Nutrients & Benefits

Coconut and neem oils are easily absorbed by the skin and reduce residue and fungus on the scalp.

Antibacterial tea tree, peppermint and lemon essential oils stimulate and tone, reducing excess oil.

Lavender and rosewood oils condition.

Antioxidants such as Vitamin E contribute to overall scalp health.

Herbs such as nettle, horsetail and sage, high in hair-loving nutrients, further complete this amazing formula.
Ritual

Massage into scalp daily, or as needed. This oil will even help to relieve scalp irritations and bumps caused by tight hairstyles. When massaged into scalp prior to styling, it may prevent irritation altogether. 

For growth: Apply using scalp massage daily, or several times a week.

For removal of scalp residue: Great as a pre-shampoo scalp treatment. Massage into scalp prior to washing to remove scalp residue and dandruff.
Ingredients

virgin olive and hemp oils, sunflower, jojoba, avocado, coconut and castor oils, neem oil, essential oils of lavender, tea tree, peppermint, lemon, cedarwood, sweet orange, rosewood and carrot seed, organic nettle, horsetail, burdock, lavender, spearmint, dandelion, chamomile, calendula, sage, saw palmetto and bay, Vitamin E and rosemary extract.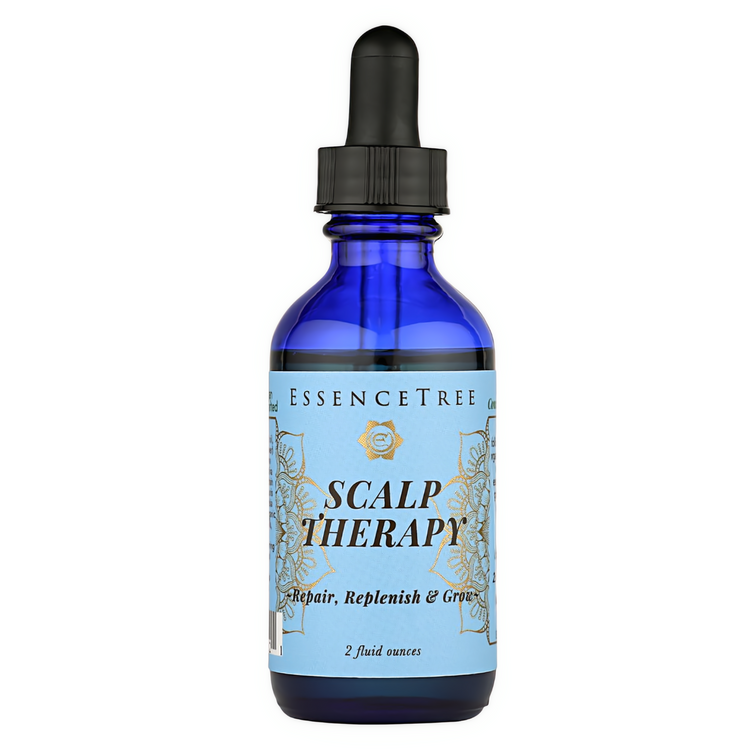 Why the Scalp Therapy?
Vegan & Nutrient-Rich
Clean & Gluten-free. Achieve your long hair goals with plant-based oils, antioxidants & herbs.
Multi-tasking & Inclusive
Supercharge your hair growth! Plus soothe scalp irritations and braid bumps. Loved by All.
Consciously Crafted
Grow hair naturally. Handmade with love, healing ingredients and intent.
Cruelty-Free
Tested on humans. Never animals.
Testimonials
This oil really helped to grow my edges back!

Annette. T
My husband swears that this oil is the reason his beard has grown so much.

C. Ansley
My daughter and I take this oil with us to get our hair done. It keeps her from getting braid bumps and me from thin locs.

T.T.
Of the two hair oils, I prefer the Scalp Therapy. It's lighter and doesn't weigh down my pressed hair.

B. Davis
Scalp Therapy FAQs
Will this really grow my hair?

The Scalp Therapy will definitely support hair growth. This recipe contains a research-based, nutrient-packed blend of follicle foods and growth stimulants. With that said, EssenceTree's products are drug-free and hair health is impacted by many factors. (Please see our videos on hair growth.)
I have thin/oily hair. Will this weigh it down?

This is an oil-based hair blend. It is light-medium weight and absorbs quickly. Since it's concentrated, you'll only need 2-3 drops to massage into your scalp. This shouldn't weigh your hair down. If unsure, please try our travel sizes first.
Will this help my dandruff?

This blend contains powerful antifungal ingredients designed to help reduce flakes and scalp inflammation, including dandruff and braid bumps.
How long does it take to see results?

We recommend allowing 4-12 weeks of consistent use before expecting results. With that said, hair growth is impacted by many factors. (Please watch our videos on hair growth.) EssenceTree's products are drug free and we do not claim to cure any hair/scalp illnesses.
About Charmaine

In the Media